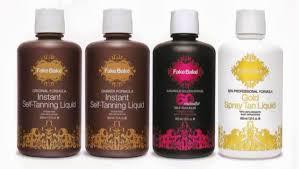 Fake Bake Spray Tanning
If you want instant sun-kissed colour, our Fake Bake tans will deliver. Having offered spray tanning for over eight years, we know how to get natural-looking results.
Fake Bake is the UK's leading salon spray tan brand that combines naturally derived tanning agents DHA and Erythulose, guaranteeing longer lasting  results (up to 50% longer). Plus these specialist self-tans offer added benefits like anti ageing, anti cellulite and anti oxidants.
Award winning Fake Bake has become the choice of beauty experts and celebrities alike. Marie Claire magazine said, "Fake Bake is one of the best self-tanners on the market, with an olive-hued undertone as opposed to orange'
Choose from Original, Darker, 60 Minute Tan or the premium Gold Tan with Anti-Oxidants.