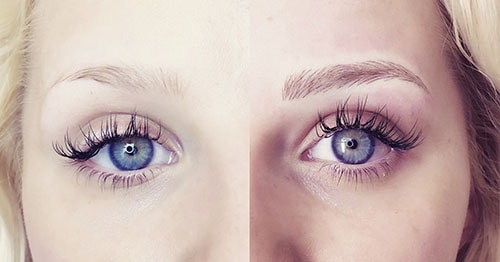 Hair by Hair Eyebrows – Machine Method
Eyebrow contouring defines your facial features and brings balance to the face. By using the traditional machine method, we are able to select the appropriate needle configuration depending on your skin type and type of eyebrow design you require. For instance, a nano or single needle creates ultra-fine individual hair stroke eyebrows to represent your own individual brow hair for a natural looking brow enhancement. Whereas a round configuration needle can create a soft powder or Ombre brow for a fuller looking eyebrow which is very on trend.
We have various permanent makeup systems to choose from and we select the right system for you depending on your design requirements. The systems we use are Nouveau Contour and Long-Time-Liner which all create fine, ultra-precise, hair by hair strokes to create the appearance of fine hair for natural looking eyebrows. Generally, this treatment will last approximately 12 – 18 months before a colour boost is required.
Hair by Hair Eyebrows – Microblading Method
Microblading is also a permanent makeup treatment which consists of implanting pigment into the epidermal layer of skin. However instead of creating hair strokes with the use of a machine, our highly qualified technicians use a manual hand tool with tiny micro needles tightly lined together which creates a fine 'blade'.
By using a 'by hand' approach we are able to create a much more natural enhancement as the microblading tool does not insert pigment deep into the skin and only uses tiny amounts of pigment to carry out the procedure. . Microblading therefore can create much finer, more realistic looking hair strokes and as this procedure is seen as more 'permanent' the results will last approx. 9 months before a colour boost is required.
Eyebrows give an age defying, rejuvenating effect which is ideal for clients who feel they need a 'lift' as their brows have naturally dropped with maturity. Eyebrows that are sparse or uneven from tweezing, very fair in appearance or just require shape defining are perfect for this treatment.
The Procedure Explained
Well-shaped eyebrows can lift your eyes and give you a more youthful appearance, whilst contouring your face. Firstly, we design the eyebrow shape to best suit your facial features, facial measurements and your brow requirements. Remember each eyebrow we design is specifically designed for each individual client. Once you have approved the arch and shape of the eyebrows we photograph the area for your portfolio and then select a suitable pigment colour.
The colour process is a scientific assessment to ensure we achieve the correct colour by analysing your skin type, skin tone, hair colour etc to ensure we achieve the desired colour once healed. Here at Dawn Alderson & Co we stock the full range of eyebrow pigments manufactured by the elite LI Colours based in the USA. We are able to mix 2/3 colours and modifiers to achieve the right colour for each individual client based on all the factors above.
We then carry out the procedure ensuring your comfort is a priority and we gently implant the pigment into the skin to create beautiful brows. This stage of the process takes approx. 40 minutes.
Finally, we check the brows again for perfect symmetry and talk through the aftercare process in detail. We give you all the post procedure requirements in a handy leaflet and we are always on hand to answer any questions you may have between now and your retouch procedure. Your retouch is booked in the system before leaving the salon and this should take place approximately 4-12 weeks following your initial treatment. We always allow 2 hours for the initial treatment and 1.15 for the retouch procedure.